Sathram – A beautiful destination I've been wanting to go since the first time I heard about it. Situated 12km from Kuttikanam, in the district of Idukki, Sathram is a place amidst thick forest, or so I'd heard. So, after my trip to Gavi, I decided to make my dream a reality and go there.
Trip to Sathram Until Parunthumpara
Along with two of my friends, I set out to Sathram, via Parunthumpara, another beautiful place worth mentioning. Parunthumpara was a better experience than I had thought it would be. Lush green hills one after the other spread out against the horizon- golden rays of sun piercing through the dark clouds – it was really a breath-taking sight. I was informed that due to monsoon rains, normally 5-6 waterfalls take birth amidst the forests that surrounded us – The Sabarimala forests. But because of the lack of rain this season, there were no waterfalls.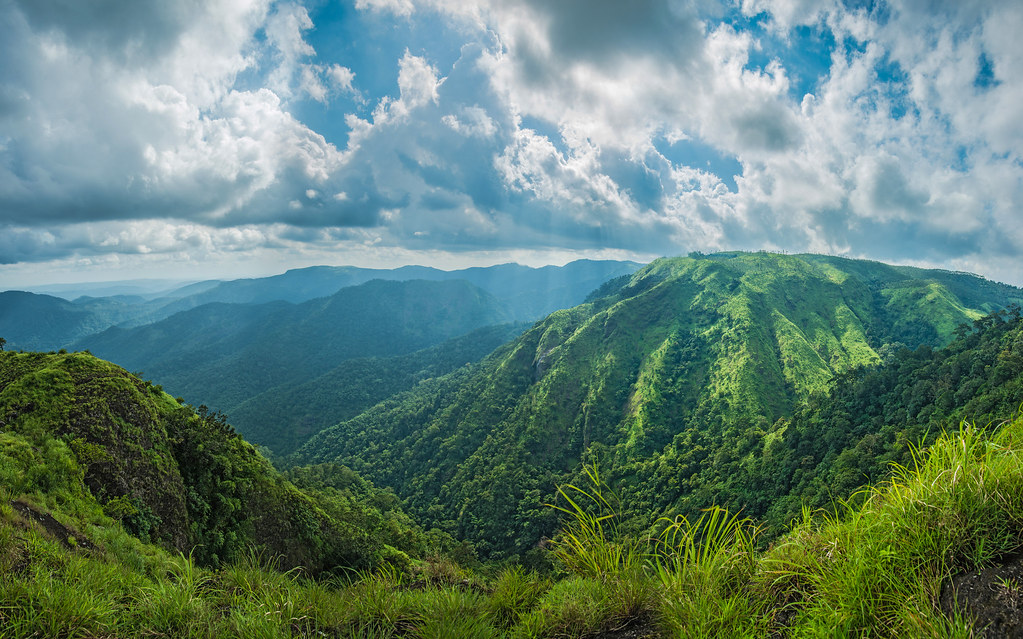 Parunthumpara is famous in that, people gather there at the time of Makaravilakku of their Sabarimala pilgrimage. The place had a really cool vibe, with the forests all around and fog covering everywhere. Another attraction at Parunthumpara is what the locals call, "Tagore Rock", due to its shape that looks like the great poet – Rabindranath Tagore. Although it is possible to go to the top of the Tagore Rock, we decided not to, owing to the lack of time.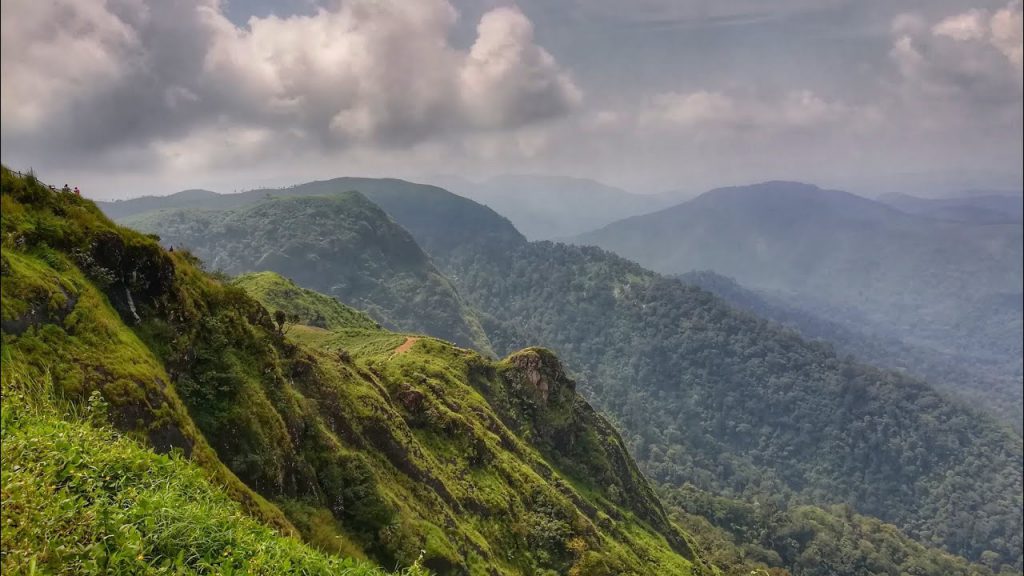 Another reason why Parunthumpara and Sathram are so popular is that, unlike Gavi, bikes are allowed here. So bikers love to come here on trips, click photos and just chill. Tourists love visiting Parunthumpara too. But a sight that really pains one is how the garbage is littered so carelessly everywhere, just ruining the whole ambiance.
How to reach Parunthumpara
Parunthumpara is accessible by road from Kochi or Kottayam. The nearest airport is Cochin International Airport which is approximately 140 km and the nearest railway head is Kottayam which is approximately 85 km.
The best time to visit Parunthumpara is from August-end till early February.
Trip to Sathram From Parunthumpara
It was time for us to leave Parunthumpara, but it is of no doubt that if you come here once, you never really leave. We started our journey to our real destination, Sathram.
The road from Parunthumpara to Sathram isn't really an ideal one, or at least for the first few kilometers. Otherwise, it's a beautiful journey with tea plantations on both sides. The road is too narrow that if a vehicle comes in the opposite direction, it blocks the whole way. But there are also KSRTC buses that can take you to Sathram, from Vandiperiyar.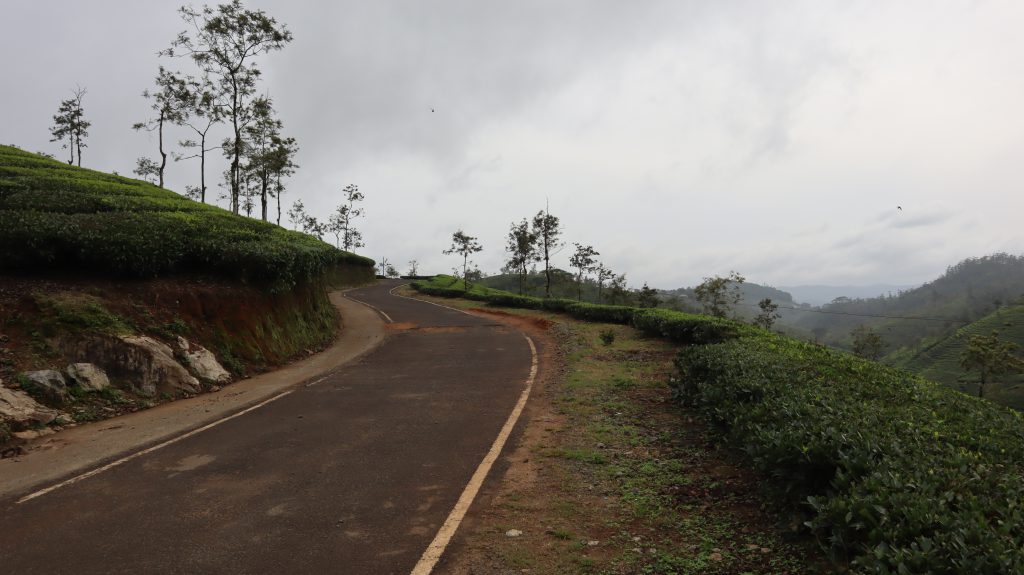 On the way, we saw the Arnakkal Tea estate, which belongs to the AVT tea company. Between the acres of land spread across the hills on both sides, we saw the water catchment area of check dams too. A small bridge was built across the water for people and vehicles to cross as well. Like me, if you're someone who enjoys watching such beautiful landscapes, you would love this place.
The road was made prettier with the branches of Cypress trees and Casuarina trees bending onto the road from the sides. We got down at Arnakkal for a few minutes. In fact, we were seized by nature's beauty. The sun had started to set slowly, so we resumed our trip. On the way, we also stopped to see a cliff called Mount, situated at an angle of 85°. Almost looking like a place somewhere outside India, the whole view of the cliff was a mighty one. Near the Mount Cliff, were lush green hillocks covered partially with fog.
From the cliff view the road was better yet winding and narrow. Soon enough we arrived at our destination, which was, 12km from Parunthumpara.
At Sathram
Sathram in Malayalam means 'Inn'. An unusual name, one might think for a destination. The pilgrims who arrived to visit Sabarimala stayed at this place, which eventually came to be known as inn or Sathram.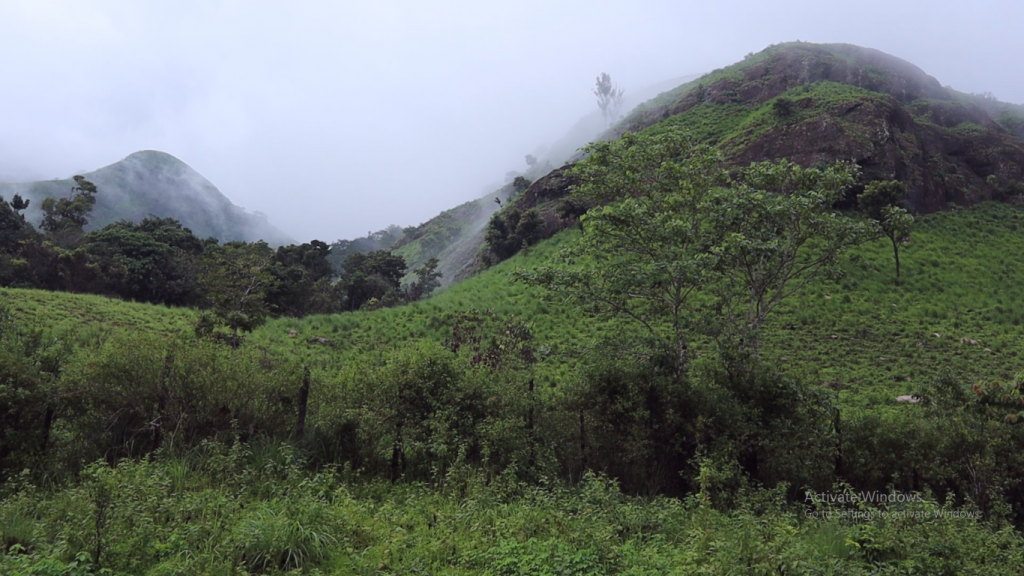 We were to stay in a nature-friendly resort that is famous "the Orange Resort" among the locals. There were orange orchards on either side of the way over to the resort, giving it the name. The orange trees were quite weak because it wasn't the season when we went, and there weren't enough trees like before either. Behind the orchards were dense cool forests.
Sathram is an ideal place for people who love off-road trips. A place quite hard to reach but is worth the whole trouble you take. Not too extravagant or expensive, but a small yet convenient place, to sit around, talk and chill.
After the long travel, we decided to take rest. I got up energetically only when I learned that we were having Cassava or Kappa for dinner! We enjoyed Cassava with the Kerala style dried fish chutney – more like crushed dried fish with shallots, salt and chilly.
A morning walk to the wood of Sathram
In the morning light, we saw how amazing the place really was. Forests all around. Dewdrops dripping from the grass underneath our feet. A cool breeze. There wasn't much fog like the previous day when we arrived, but in the morning, the whole place was almost opaque white.
The people said that if we're lucky enough, we would see an animal or two; a wild elephant or a bison somewhere on the way. As we climbed up the mountain, looking out for leeches that were present in abundance there, all we really did was enjoy the moment. A meadow of lemongrass surrounded us. I took a blade of leaf and smelled it. The subtle smell of lemongrass really complemented with the ambiance of the place.
We didn't see any animals like we had hoped, not even a centipede. But none of it mattered. The pleasant atmosphere was ironically strong enough to take away the worst of feelings. And as I stood there amidst the green, all I did was enjoy the indescribable beauty of the hills. Even when we left the beautiful place, all I hoped was to come back again.